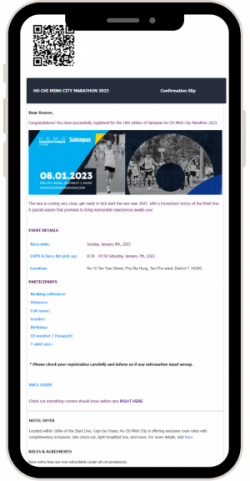 HOW TO PICK UP YOUR RACE KIT?
In order to pick up your race kit, please bring following items:
1. Your confirmation email/slip (Digital version is accepted)
2. Your personal document (ID/Birth Certificate/Resident card…)
**For race kit pick up on behalf (each runner can only collect for up to 2 other runners), you will need to bring 3 items (digital version accepted for all):
Participant's confirmation email
Participant's personal document (ID/passport/resident card…)
Your personal document (ID/passport/resident card…)
*NOTE:
– Please inform the organizer via email registration@pulse.vn in case you need to change or update ID/passport information.
– We will try our best to provide the chosen T-shirt size, but in case your size is not available, please choose another size.
– Please check your race kit carefully when you receive it on race kit pick up day. If for any reason you are not satisfied with your race kit or there are any goods missing after when you bring it out of race kit pickup site, we won't be able to accept back any goods or exchange for any new ones.
– To those who join the 42km race & 21km race:
Finisher medals & finisher T-shirt will be awarded to the runners who finish the race at their respective cut-off times.
Finisher T-shirt will be given to you in COOL DOWN area at the event site right after when you finish the race
– To those who join the 10km and 5km race: Medals will be given when you finish the race. Did Not Finish (DNF) participants will not be eligible for the medals.
– E-Certificate will be uploaded 2 weeks after the race on the result page (for 42km/21km/10km/5km)
– Medical care is available at certain mobile locations and the finish line.
– Bag Drop will be priority for Marathon & Half Marathon. Please note that we have limit number of check-in bag.
– Water, energy drink/food is provided at certain locations along the run.
– General Info will be provided in E-Race Guide.
– BIB number should be pinned in front of your running shirt/singlet in a visible way.